Water Distiller ~ Portable model TC-203SG
Distillation is the only process that collects the pure steam! The steam rises from the water, leaving virtually all other contaminants behind, and then we cool the steam down into pure water! Model: TC-203SG is complete build with inner boiling chamber and the outer jacket both made of stainless steel with Glass collection bottle. Manual fill & automatic shut off.
Stainless Water Distiller 120V/240V - Glass Collection 
This distiller features a durable brushed stainless steel outer shell with black top. This is an attractive addition to your kitchen especially if you already have stainless appliances. All WISDOM countertop distillers feature a full stainless steel boiling chamber including the upper dome. This is a convenient, low cost, easy to use 1 gallon water distiller. Makes up to 4 gallons a day. We have been distributing this distiller to doctors, dentists, laboratories, businesses and individuals for over 15 years.
Countertop water distillers offer the convenience of being portable, easy to set up, and less expensive. Most make 1 gallon at a time and shut off automatically when it is finished. You can make subsequent gallons as long as you are there to fill up your water distiller.
Model TC-203SG Specification & Features
Specification:
~ Diameter : 20 cm Height : 36 cm 
~ Weight: 3.5 kg 
~ Net Weight: 5.0kg
~ Gross Weight: 6.4 kg 
~ Packing Dimension: 28.0cm (L) x 25.0cm (W) x 45.0cm (H) 
~ Distillate capacity approximate. 4 lits per 4 hours
~ International 240V AC - 50Hz - 750 W
~ Detachable Ground Power Cord 
Features:
Recommend for 4 people.
Advanced Design Euro-style Countertop Appliance
Manual fill, no installation required
Automatic shut-off after each cycle
Gaseous Vent & Post Carbon Treatment System
Fan cooled
Stainless steel boiler - 4 liter capacity
Stainless Steel under lid
Enclosed heating element for long life
Mobile, durable, and a space saver.
Automatic temperature thermostat control.
Automatically switches off when the process is finished, zero damage.
No need of filter or cartridges, no pollution.
Professional Says...
"Distilled water is the world's best and purest water!"
Water - The Shocking Truth
Dr. Paul C. Bragg & Dr. Patricia Bragg
"Distilled water is the only water which is pure - the only water free from all impurities." 
The Choice Is Clear
Dr. Allen E. Banik
"Even tap water invariably contains a variety of poisons such as chlorine, chloramine, asbestos, pesticides, fluoride, copper, mercury, and lead. The best way to remove all these contaminants is by distilling." 
How To Save Your Teeth: Toxic-Free Preventive Dentistry
Dr. David Kennedy, D.D.S.
"We believe that only steam-distilled water should be consumed."
Prescription for Nutritional Healing
James F. Balch, MD. & Phyllis A. Balch, C.N.C.
"The only type of water that seems to be fit for consumption is distilled water…Distillation is the single most effective method of water purification." 
A Diabetic Doctor Looks at Diabetes
Peter A. Lodewick, M.D.
"If you decide on bottled water, make sure it's distilled, (however), in the long run you'll save money if you clean your water at home using a water distiller."
Maximum Health
Dr. Robert D. Willix, Jr., M.D.
" Far and away the cleanest water is produced by the new home distillers."
Optimum Sports Nutrition
Dr. Michael Colgan, Ph.D., CCN
"The home distiller is the best method and also the best way to get distilled water. It is the only reliable home water purification for taking fluoride out of the water." 
Fluoride: The Aging Factor
Dr. John Yiamoyuiannis, Ph.D.
Water Distiller ~ Fully Automaic model TC-501H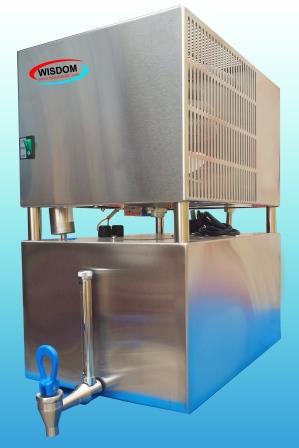 Distillation produces extremely consistent results! There is no drop in quality over time. It produces consistently high quality water glass after glass, day after day, and year after year.Model: TC-501H is a fully automatic distillation system build with 24 lits water storing steel tank and with the maximum of making 26 lit per day. Automatic fill & Automatic shut off.
Specification:
~ Size: 28.0x56.5x49.5cm (LxDxH) 
~ Net weight: 15 kg 
~ Distillate capacity: 26 liters in 24 hours 
~ Storing tank: 24L
~ Heating element: 800 watts, 110V/240V AC
~ Gross Weight: 17 kg 
~ Packing Dimension: 37.5x57.0x57.0cm (LxDxH)
Features:
Connected directly to the tap water source.
Air cool technology. Features an efficient and quiet running fan for cooling.
Build with semi-permanent condenser air-cool heat transfer coil.
High grade stainless storing tank.
Fully automatic model. Automatic stop when distilled water storing tank is full and start to run automatically when the distilled water level drops.
Fully stainless steel distillation system.
Operate in Single Phase Electric Power 220V~240V / 50Hz
Using reliable electronic circuit board to control the flow of raw water inlet, boiling process in boiling chamber and control of water level in distilled water storing tank.
Residue discharge valve to remove concentrated residue in boiling chamber.
Using Air Cool technology that NO water will be needed and no water will be wasted to cool and condense.